Sign-up for The Industry Room and you will perform on our main stage, meet the club booker, get feedback on your set, audition for the club and apply for our comic residency program.
One show: five great opportunities
The Industry Room
at Broadway Comedy Club
New York City's Best Comedy Showcase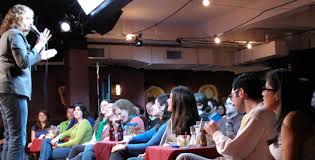 The Industry Room is a comedy show that offers comedians the opportunity for industry exposure and professional development. Each show is attended by the main club booker of the Broadway Comedy Club as well as the club's New Talent Director. After the show, the club booker will give you personal, one-on-one feedback on your set. Each show is also attended by a respected Manager, Agent or Casting Director. One comic from each show is selected for a 1-2 month residency at Broadway Comedy Club. Our residency is an intensive program, whereby Comic Residents receive multiple spots so that they can quickly accelerate their professional growth and development. Some of the other comics on the show will receive one-week residencies. You will perform on the club's World Famous Richard Pryor Main Stage. You will also get a free recording of your set.
Please note: This is not an open mic—this is a real show in-front of a packed New York City audience.
Want to perform?
Contact Gordon Vosburgh
at 917.406.9157
WHY IS THE SHOW CALLED THE INDUSTRY ROOM?
Because every show is attended by the club booker and at least one Manager, Agent, Talent Scout or Casting Director. Past attendees include representatives from:












Our showcase comics perform on Comedy Central, The Tonight Show with Jimmy Fallon, The Late Show with Seth Meyers, Comedy Central's Up at Midnight, The Conan O'Brien Show, The CBS Late Show with David Letterman, The Late Show with Stephen Colbert, The Jimmy Kimmel Show, NBC's Last Comic Standing, The CBS Late, Late Show, HBO, Showtime, Sirius Radio, Funny or Die, Collegehumor.com, BET Comic View, ICaramba! Latino Laugh Festival, Jay Leno's Tonight Show, The Montreal Comedy Festival, Showtime at The Apollo, Comedy Central's Tough Crowd and The Daily Show.




Want to perform?
Contact Gordon Vosburgh
at 917.406.9157
OPEN MICS
• JOIN OUR COMMUNITY OF COMICS
• MAKE FRIENDS AND NETWORK WITH OTHER COMEDIANS
• TEST YOUR MATERIAL
• DEVELOP YOUR ACT
• HONE YOUR CRAFT
Broadway Comedy Club offers a daily variety of open mics at convenient times to fit your unique schedule.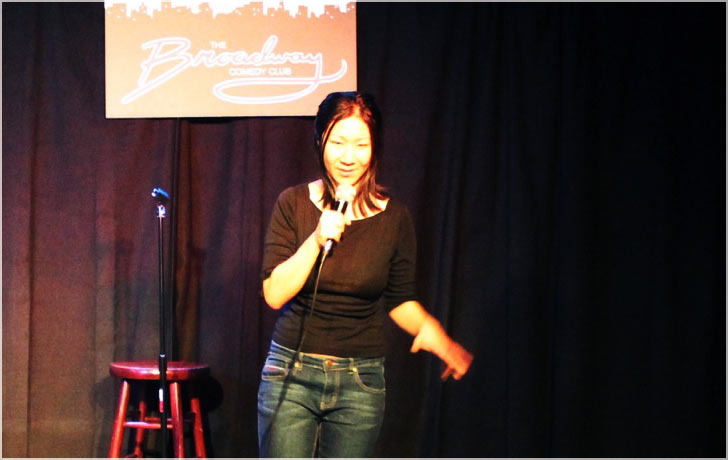 Want an email list of all our open mics? Sign-up here and we will send you our list RIGHT NOW.
COMEDY CLASSES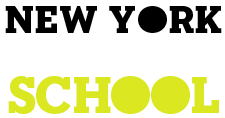 We offer the only comedy school in New York City that is taught by the owner of two clubs! Learn what makes you funny and bookable! Joke structure, audience interaction and how to develop your own comedy voice are just some of the topics that will be covered. Instruction is tailored to each individual's level. Everyone works in every class! Fast track your career to the next level! Be a working comic in the New York Comedy Scene!
Learn from the best in a safe, supportive environment. We will nurture your confidence and help you build a solid act to succeed in the business.

Want to audit a class for free?
Call 212.712.6381 or email
comedycoach1@gmail.com
SEMINARS
Every month, we offer seminars on both the creative and business aspects of comedy. These seminars are very popular and fill-up quickly. As always, alumni of The Industry Room get first priority at registration and a significant discount. Additionally, some of our seminars are free and offered exclusively to members of The Industry Room. To receive an email about upcoming seminars, sign up for our newsletter here:
Our next seminar: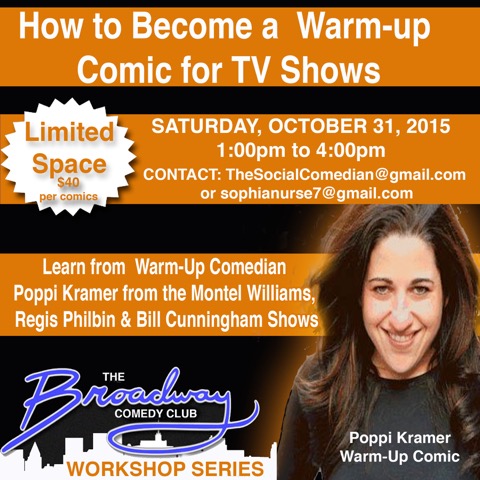 Upcoming Seminars for 2015-2016
How to become a warm-up comedian for TV shows.
Learn from Warm-Up Comic Poppi Kramer form the Montel Williams, Regis Philbin and Bill Cunningham Show.
PR (Public Relations) 101
Learn how to promote your comedy career like a professional Publicist.
Hosting 101
Do you have what it takes to be a TV Host?  Learn from a casting director and Hosting coach about the ins and outs of the business.  Actually practicing reading TV scripts on stage and learn how to read from a teleprompter.
Social Media 101
Learn the importance of a Social Media presence and how to get noticed on the world wide web.
The Perfect Industry Set
This workshop will teach comedians how to create a perfect industry set that you can send to bookers, clubs, agents and managers.  In this workshop you will actually get up and workout your own set with feedback from both the class and teacher.
YouTube 101
Learn how to create, manage and monetize your own channel.
IMPROV for Comedians
This is a one day workshop that will teach you to incorporate improv into your stand-up act.
Want to learn more
about our seminars?
Call 646.296.9576
or email us.
THE AUDITION LOTTERY LINE-UP
In addition to auditioning for the club booker at The Industry Room Showcase, comics can also stand in line outside the club and obtain an audition date. We only hold this line-up once or twice a year & the time and date of the lineup is only communicated through TheIndustryRoom.com Newsletter.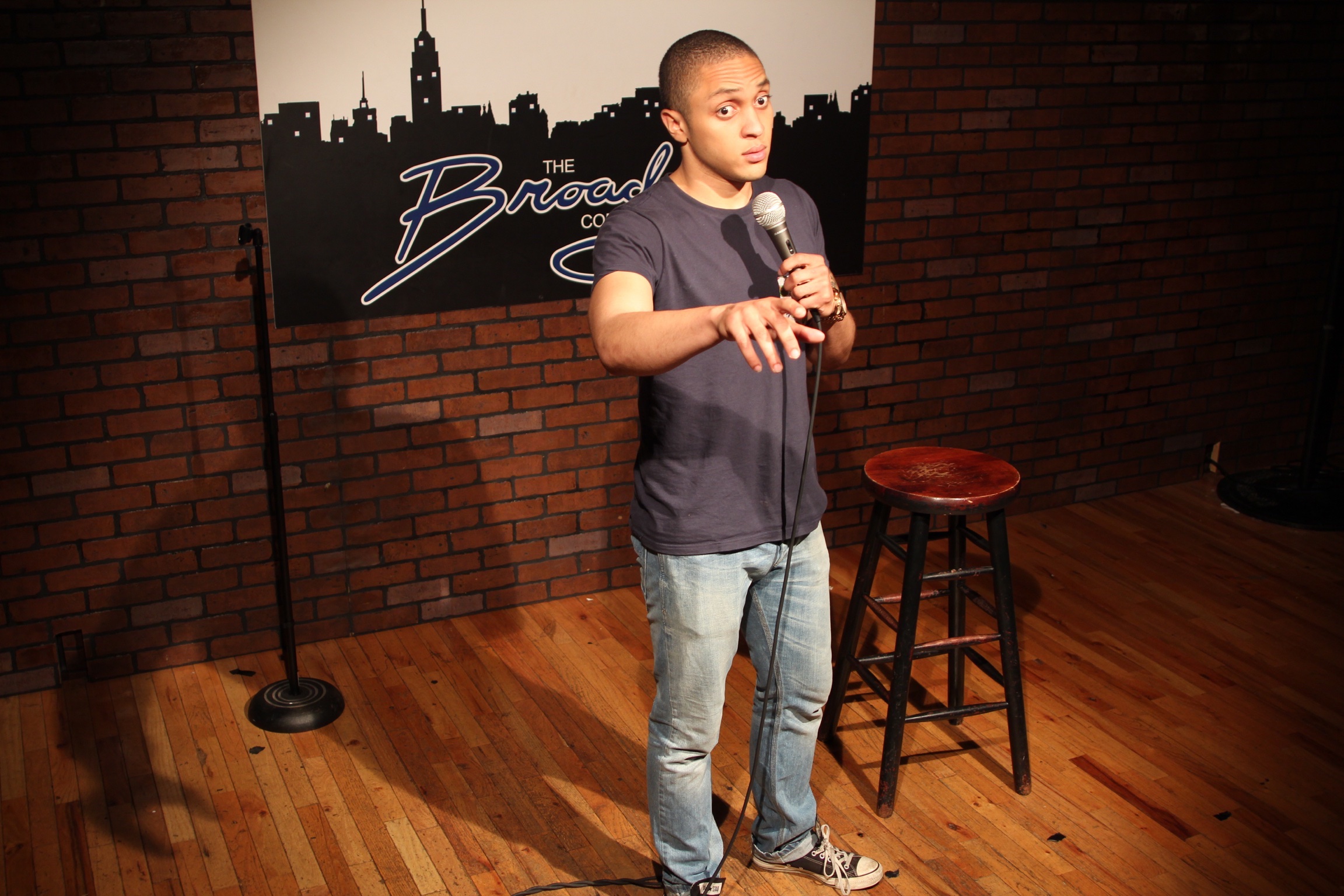 Want to receive an email alert
about the next
Lottery Line-up Date?
Sign-up for our
newsletter here: